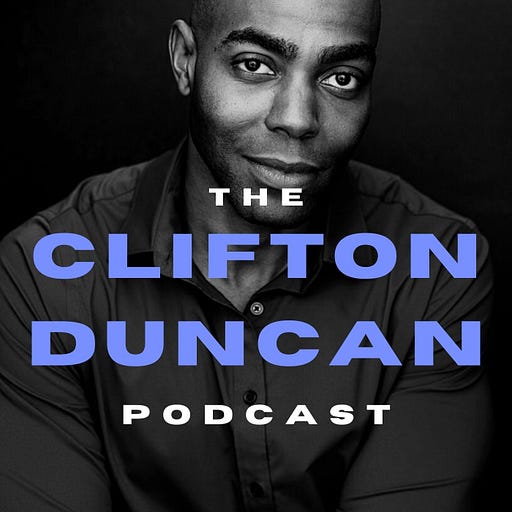 Apr 2 • 54M
Fame, Fatherhood, and Leaving "Lois & Clark".
Performer and social commentator Clifton Duncan engages in penetrating discussion with dynamic artist-philosophers, delving into major issues of our modern era at the tumultuous intersection of Art, Culture, and Society.
Dean Cain is a multi-faceted, Emmy-winning filmmaker and actor.
An All-American football player at Princeton University, he moved to entertainment when an injury ended his NFL career.
While he's most well-known for starring as Clark Kent/Superman in "Lois and Clark: The New Adventures of Superman", he's also produced and hosted "Ripley's Believe It Or Not", and made close to 200 films--including "Out of Time" (playing opposite Denzel Washington), "The Broken Hearts Club," God's Not Dead," "Vendetta," "Gosnell," and the soon-to-be released, "Little Angels" (which he wrote, produced, directed, and starred-in).
Additionally, you may have seen him co-host THE TODAY SHOW, or FOX AND FRIENDS in-between his numerous film and television projects, and he currently hosts season 9 of "Masters of Illusion" for the CW, along with season 3 of "The Christmas Caroler Challenge".
A strong believer in Human Rights, Dean received the prestigious ORDER OF ARMENIA for producing the anti-Genocide documentary film, ARCHITECTS OF DENIAL. Dean's newest documentary, HATE AMONG US, recently won an Emmy. HATE AMONG US, shines a light on the current rise of anti-Semitism throughout the United States and Europe.
A single father and a staunch supporter of our military and first responders, Dean is honored to serve as a sworn Sheriff's Deputy in Frederick County, Virginia and a Reserve Police Officer in Pocatello, Idaho.
FOLLOW DEAN ON TWITTER:
https://www.twitter.com/RealDeanCain
FOLLOW ME ON TWITTER:
https://www.twitter.com/cliftonaduncan
I'M VERIFIED ON RUMBLE:
https://www.rumble.com/c/CliftonDuncan
SUBSCRIBE TO MY SUBSTACK:
https://cliftonduncan.substack.com
MY IMDB PAGE:
https://www.imdb.me/cliftonduncan
(MOST OF) MY THEATRICAL CREDITS:
https://www.abouttheartists.com/artists/265366-clifton-alphonzo-duncan
Intro/Outro: https://www.epidemicsound.com/track/stJzyKNNgz/
SUPPORT THIS PODCAST BY BUYING SOME DELICIOUS COFFEE FROM OUR FIRST SPONSOR, TWIN ENGINE COFFEE:
https://www.twinenginecoffee.com/CliftonDuncan
CHAPTERS:
0:00:00 -- Teaser.
0:00:41 -- Hello, there!
0:02:16 -- From Pro Football to...Show Business???
0:09:08 -- On Learning to be Vulnerable.
0:12:51 -- Choosing Fatherhood Over Fame.
0:17:10 -- Fame, Success, and Misery (and Videogames!)
0:22:09 -- Social Media, and the Dearth of Meaning.
0:31:00 -- Neo-McCarthyism in the Entertainment Industry.
0:35:50 -- Closing the Divide Between Cultural Elites and the Public.
0:46:00 -- Rediscovering Truth, Justice, and the American Way.
0:52:10 -- What Dean's Working on Now, and Closing Thoughts.