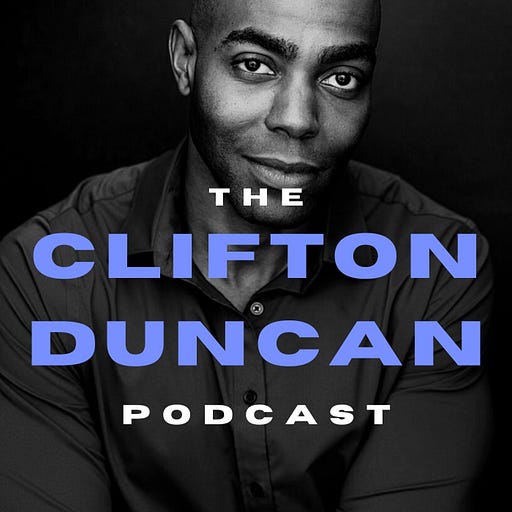 Mar 20 • 52M
The Key to a Positive Future.
Performer and social commentator Clifton Duncan engages in penetrating discussion with dynamic artist-philosophers, delving into major issues of our modern era at the tumultuous intersection of Art, Culture, and Society.
Konstantin Kisin is a Russian-British satirist, podcaster, author and political commentator who made international headlines in 2018 when he refused to sign a university "behavioural agreement form", which banned jokes about religion, atheism, and insisted that all humour must be "respectful and kind".
Since then, Kisin has written for a number of publications, including Quillette, The Spectator, The Daily Telegraph and Standpoint, and has appeared on a numerous media outlets and podcasts to opine on issues relating to tech censorship, woke culture, comedy and "culture war" topics; he also writes regularly on his eponymous Substack.
Alongside fellow comedian Francis Foster, Kisin is also co-founder and host of "Triggernometry", a popular free speech podcast built around "fun-but-serious conversations with fascinating guests".
Kisin is also a Sunday Times Best-Selling author, and the paperback edition of his newest book, "An Immigrant's Love Letter to the West", is available now.
WATCH KONSTANTIN'S VIRAL OXFORD UNION SPEECH:
https://youtube.com/watch?v=zJdqJu-6ZPo&si=EnSIkaIECMiOmarE
BUY HIS BOOK:
https://www.amazon.co.uk/Immigrants-Love-Letter-West/dp/1408716062/
READ HIS SUBSTACK:
https://www.konstantinkisin.substack.com/
FOLLOW HIM ON TWITTER:
https://www.twitter.com/Konstantinkisin
FOLLOW ME ON TWITTER:
https://www.twitter.com/cliftonaduncan
I'M VERIFIED ON RUMBLE:
https://www.rumble.com/c/CliftonDuncan
SUBSCRIBE TO MY SUBSTACK:
https://cliftonduncan.substack.com
MY IMDB PAGE:
https://www.imdb.me/cliftonduncan
(MOST OF) MY THEATRICAL CREDITS:
https://www.abouttheartists.com/artists/265366-clifton-alphonzo-duncan
Intro/Outro: https://www.epidemicsound.com/track/stJzyKNNgz/
SUPPORT THIS PODCAST BY BUYING SOME DELICIOUS COFFEE FROM OUR FIRST SPONSOR, TWIN ENGINE COFFEE:
https://www.twinenginecoffee.com/CliftonDuncan
I NARRATED THIS AUDIOBOOK:
https://www.berlinersbook.com/
CHAPTERS:
0:00:00 -- Teaser.
0:00:51 -- Hello, there.
0:03:08 -- A Brief Story About How I Got This Hat.
0:04:13 -- Fatherhood, and the Face of the Future.
0:06:10 -- The Message Young People Need to Hear.
0:10:45 -- The Dangers of Re-Racializing Society.
0:17:33 -- American Cultural Exceptionalism.
0:21:49 -- Alternative Institutions, and a Post-Woke Society.
0:28:09 -- Artists Must Harness the Power of New Media.
0:38:25 -- Everyone Needs Skin in the Game.
0:45:54 -- Create, Don't Wait.
0:50:02 -- Using Art to Tell the Truth.